Getting patch errors just like the image below?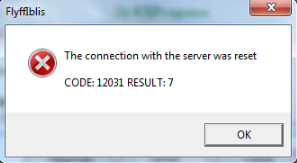 Try some fixes below:
Solution 1: Temporarily disable Antivirus or add the flyff folder to your antivirus exception list or whitelist. Seek a GM on Discord if you need help disabling it.
Solution 2: Use Fix Tool. Download Link: FIX tool. Remember to put it inside flyff folder. Click any dns server then try patching. If it doesn't work, try another dns server. If all dns servers are not working, try bypass button.
Solution 33: Use new patcher. Download Link: Patcher v2. After downloading, put it inside Flyff folder and overwrite existing.
Solution 3: Set your DNS to google (8.8.8.8 / 1.1.1.1). Tutorial Video: Video
Solution 4: Disable UAC. Check the link: Disable UAC on Windows 10
Solution 5: Run Flyff in admin mode by right clicking the shortcut and select "Run as Administrator".
Solution 5.5: Reset Internet Explorer Settings Tutorial
Solution 6: Try to change your IP address by turning off router for 5 minutes. Check your IP using IPChicken.
Solution 7: Contact a GM on Discord and send him your Teamviewer ID and Pass so he can remotely check your PC.
Solution 8: Try to use a VPN. Free ones are Zenmate, Hotspotshield, Hide.me.
Solution 9: Please contact a GM on Discord


Flyff whitescreen or crashes upon starting?
Solution A: Download and Install vcredist AIO
Solution B : Most common cause of flyff crash, whitescreen upon clicking "start" button is incorrect installation. Make sure to install Flyff on a newly created folder and do not mix it with other files.